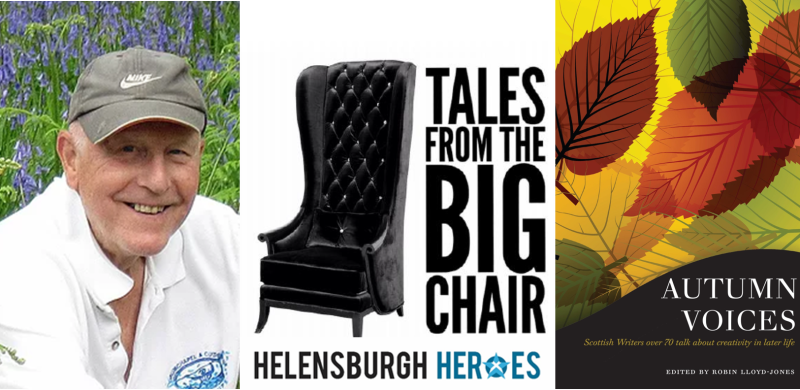 Autumn Voices author set for Big Chair Experience


Award winning writer and author Robin LLoyd-Jones will be joining Helensburgh Heroes on Thursday 12th July to discuss his life, career and his latest book 'Autumn Voices' as a participant in the Tales from the Big Chair series of events.
Robin has lived in Scotland for most of his adult life, having spent his childhood in India. Robin moved to Scotland to work as an Education Adviser for Strathclyde Region and soon became part of the vibrant Scottish writing scene, serving as President of the Scottish Association of Writers (1993-1996) and President of the Scottish Branch of PEN International (1997-2000), and chairing the Writers in Prison Committee which campaigns on behalf of persecuted writers. He was for several years a tutor in Creative Writing at Glasgow University.
His latest book 'Autumn Voices',published at the end of June 2018, examines creativity in later life. Between 2015-17 Robin interviewed Scottish writers over 70 who were still actively writing including: Sheena Blackhall, Larry Butler, Jenni Calder, Alasdair Gray, Diana Hendry, Richard Holloway and Alison Prince.
The twenty-one established writers who speak through this book show that productivity and creativity can be extended well into later life and provide role models for future generations. These are men and women who see old age as life's last great adventure and who have chosen to embrace it, to regard it as a new and interesting phase of life, full of possibilities, while also accepting the losses age brings with honesty, courage and even humour. Through their lives and their writing they demonstrate qualities, values and attitudes which contribute to successful ageing and continuing creativity. These mature autumn voices speak to us from a point where experience is at its maximum, perspective at its broadest and mastery of craft at its peak. We have much to learn from them.
Examining creativity in later life is an important strand in our society's need to acknowledge and understand that physical decline does not necessarily mean a decline in emotional, creative and personal growth; that creativity is linked to both mental and physical health; and that our economy will not survive unless we stop regarding our elderly citizens as a burden and start seeing them as potentially productive and useful people whose maturity, greater life experience and insights are valuable assets. A society that is better for older people is better for people of all ages. To address the problems and the opportunities of the elderly, as does Autumn Voices, is to benefit the welfare of our society as a whole.
The writers in this book are proof of Emerson's dictum that you don't grow old, you become old when you stop growing. The responses to ageing and the changes that have occurred may vary, but in every case growth has continued.
The event to be held at the Heroes Centre in Helensburgh will commence at 19.00 pm and will conclude following a Q&A session at approximately 20.30 pm.
Admission is free but by ticket only. Tickets can be obtained on a first come first serve basis HERE