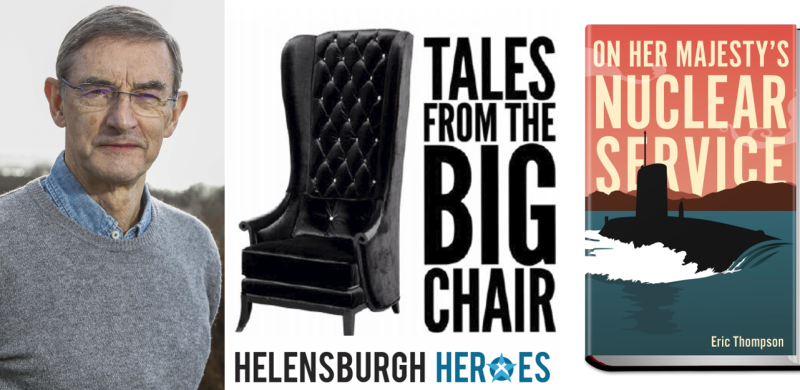 Helensburgh Heroes launches new series of inspirational chat show style events
Tales from the Big Chair is a series of events designed to help, inspire and encourage people to believe in themselves and their ideas.
Hosted by Helensburgh Heroes, each invited guest will chat through their lives, careers and experiences, and will nominate their own personal hero and share two pieces of advice – one that was given to them and one that they would like to pass on to others.
Each event closes with a short audience Q&A session.
The Charity hopes that the resulting stories of problems, solutions, obstacles and opportunities will help convince people, especially the younger members of the community, that they too can achieve and that there is no magic formula – everyone has it within them.
Each event will take place in front of an intimate audience, in the relaxed environment of Hucksters Cafe at the Heroes Centre, 28 Sinclair Street, Helensburgh, G84 8SU. Timings may differ, with each event usually commencing at 19.00 lasting for approximately 90 minutes.
The series of events will feature inspirational men and women from all walks of life. The first Tales from the Big Chair event will be held on Thursday 12th April 2018, and will host Eric Thompson MBE as its guest.
Eric, who recently published book On Her Majesty's Nuclear Service is riding high in the best seller charts, is a former naval officer who specialised in submarines and rose to become Commodore in charge of the Clyde Submarine Base at Faslane. He now concentrates on writing, speaking and trying to make people laugh.
Tickets for the event can be obtained on a first come first serve basis by clicking HERE.
A charity spokesman stated: "These events are designed to meet the objectives and ideals that were at the heart of the Charity's foundation. We always wanted to host sessions such as Tales From the Big Chair where members of the community can meet and learn and share experiences and hopefully feel a sense of empowerment. Over the coming weeks we will be introducing a number of events and workshops.'